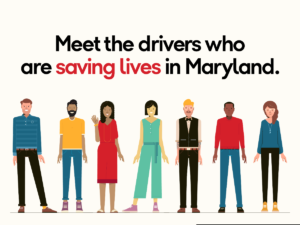 Impaired and Drunk Driving Resources
The number of crashes due to impaired and drunk driving always increases during holidays and long weekends. There are so many ways to get a safe and sober ride home these days, there's really no excuse.

Spread the word to your community and social media followers about their options. Encourage rideshares, cabs, or even offer to give people a safe ride home!

SPIDRE (state police impaired driving reduction effort) will be in place to keep the roadways safe, too. Don't get caught in their web.
Be the Driver — Who Saves Lives
For the first time ever, the Maryland Department of Transportation Motor Vehicle Administration's (MDOT MVA) Highway Safety Office is launching an all-encompassing highway safety campaign focused on safe driving behaviors, aptly named Be the Driver. 
The animated campaign depicts common situations that drivers, riders, and pedestrians often face and illustrates each road users' personal responsibility. The ads will be featured year-round on local television, streaming music platforms, billboards, social media, and digital advertisement and be coupled with enforcement waves from state and local law enforcement agencies as part of a high visibility highway safety effort.